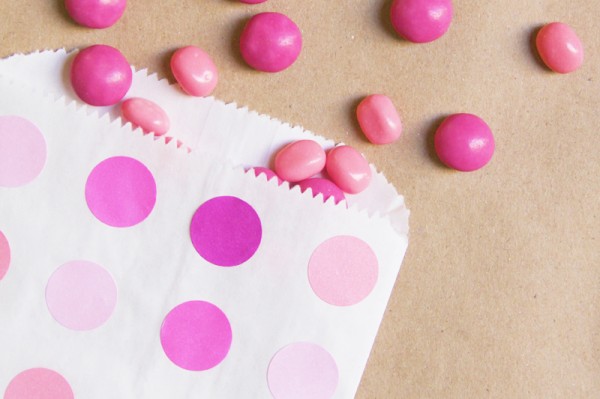 Look what we found for you! Studio DIY has come up with an easy way for you to create polka dot paper treat sacks in ANY COLOR to match your party theme!
You'll never guess how simple it is to COLOR your way to a unique favor bag in your custom colors.
Here are your supplies:


#1 - Paper Bags (any size, color or style)
#2 - Avery brand Multi-Use Round Circle Label Stickers
Avery Self-Adhesive Removable Labels, 1-Inch Diameter, White, Pack of 600 (5410)
#3 - Markers in your party theme colors
You will be coloring your label sheets. You can have the kids help you with this too!
Begin by removing one sheet of labels from the package. Place a ruler under one row of circle stickers and color all the circles with your first marker. Then slide your ruler down a row and color the next row of circle stickers with your second marker. Continue coloring your stickers with a ruler as your guide until the whole label sheet is colored.
Once dry, remove each circle sticker from the label sheet and place on your paper sack. Use your ruler again to line up your dots, or place stickers randomly for a more playful look.
Try this idea with two colors, like school colors, for classroom treats too. Or try orange and black markers for DIY Halloween favor sacks too. You always pick the cutest colors, so this party favor DIY idea is only limited by your markers!
Thank you for this fabulous party craft, Studio DIY!
-Sally
See more of our unique Polka Dot Party Favor Ideas on Pinterest too.